Pink Page ~ ピンクページ

Seems like you've stumbled onto the secret Pink Page. This page is still in the works, please check back again.

For BeSparkly news and updates, please read the creator's blog, The First Sparkle.

Sparkle Board Blogs
creator's blog:
The First Sparkle

Julian&Co.:
Never Too Little For Style

Pink is a sparkly color, don't ya think? BeSparkly thinks so...

I'm glad you found the secret Pink Page where I talk about wonderful pink things that brighten up my life. Recently, I bought some sparkly pink lip gloss that makes my lips shimmer and shine. It's like pink, sparkly magic in a tube.

I have a pink knitting bag, a new pink sweater, pink post-it notes, a pink piggy bank and even a pink pen. Of course, I have lots of items in other colors and one day I may fancy orange or green, but for now, pink it is!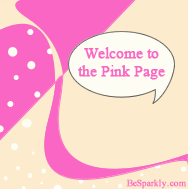 It's the BeSparkly Pink Page...eh?
ピンクページ...なに?